"Dual Green Diesel Catalyst" RV-4400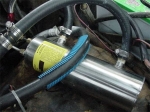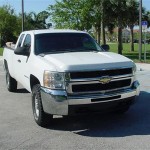 The RV-4400 unit is a Green Dual Diesel Fuel Catalyst.  We are redefining the industry for Fuel Treatment Products.  We offer a one of a kind Sustainable Onboard Fuel Treatment System.  Once installed you never have to add a Fuel Treatment again.  This Zero Maintenance System allows additional Oxygen to bind to the Fuel thus allowing more complete combustion in the cylinders and not in the exhaust. Third Party Tests show fuel mileage increases on 2007 Chevy Duramax 6.6L engine to be 18% on highway driving. This Sustainable Onboard Fuel Treatment system can be used on Engine Sizes 5.0L through 8.0L. This unit is stainless steel construction is approximately 11.5″ long x 3.5 " diameter.  This system allows maximum fuel combustion and results in lower fuel consumption and reduced emissions.   The RV-4400 can used on the following diesel engines:
GMC or Chevy Duramax 6.6L (1993-2010) (Best In Class)
Cummins 5.9L (Any Year)
Isuzu 5.2L (Any Year)
Fiat 5L & Up
John Deere (Tractor or Marine Engine Gen Set.)
Perkins
This unit requires connection to existing heater hoses and fuel lines. This product can be used on delivery trucks, buses, pickup trucks, commercial trucks, off-road construction equipment, pump jacks, diesel generators, diesel pumps, etc.
The best engine accessory you can add to your equipment to save fuel.  This unit comes with fittings, install brackets, and complete instructions for installation.