"Dual Green Diesel Catalyst" RV-3300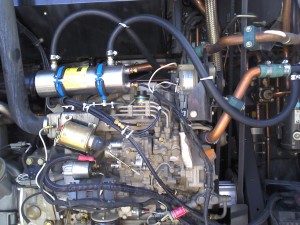 The RV-3300 unit can be used with engine sizes 2.0L through 4.5L.
This unit is stainless steel construction is approximately 11″ long x 3.5 " diameter.
This Sustainable Onboard Fuel Treatment system can be used on the following diesel engines:
Thermo King Reefers (Full Size Reefers Any Year) includes Yanmar engines 2.1L (2001-2013) CARB application applied for
Carrier Reefers (Kubota Engines 2004-2013)
Fiat Diesel engines
Diesel Jeeps and Toyotas
John Deere (Tractor or Marine Engine Gen Set.)
VW Passat, Jetta and Golf TDI's with 1.9L & 2.0 L Diesel Engines Years 2000-2008

This unit requires connection to existing heater hoses and fuel lines.  This product can be used on pump jacks, refrigerated trailers, travel bus generators, tractors, diesel generators, pumps, etc.  The best diesel engine accessory you can add to help you save fuel.  The unit comes with fittings, install brackets, and complete instructions for installation.
Note:  Special Pricing Available to Refrigerated Carriers