VW Emission Solution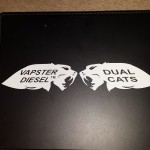 For all those Freightliner Fans out there your "Good Buddy" just came to town.  If you drive a Freightliner or your boss has you drive one with a Detroit Diesel Series 60 you are in luck.  Diesel Fuel Savers, LLC is adding a new product to the Vapster-Diesel Line of Diesel Fuel Savers.  It is the SDL-8800 "Dual Cats" fuel saver for the 14L Detroit Diesel Series 60.  You might not be aware but Vapster-Diesel product line is for all types of diesel engines.  Most people don't know that a diesel engine can be made more efficient by changing certain parameters in the combustion process.  These parameters include adding Oxygen (oxidizer), Hydrogen (Fuel), cracking (Breaking down large chain molecules to small change molecules.  This is what Vapster-Diesel products do, they increase the efficiency of the combustion process better than any Zero-Maintenance Product out on the market.  They use a Dual Cat P.C.E.R.T. technology developed at the combustion laboratory at Florida Atlantic University in Boca Raton, Florida.   P.C.E.R.T. Technology stands for Pre-Combustion Emission Reducing Technology.
But the heck with all that Scientific Crap right.  You just want to know if the products work?  With hundreds of units in the field with happy customers You can say something must be working.  In addition to that if you are not 100% completely satisfied with not enough results over your baseline you get a 100% refund of your money.  Heck, I don't have any competitors that will stand behind that promise.  That's our difference, Others Promise We Deliver!!
So you are the lucky ones.  We are offering the first 100 customers a Free Installation Package worth $200. Just call let us know your availability and we will be pleased to set an appointment for an installation.  The install takes just over an hour and you are on your way.  We have a mobile truck that will come to your truck yard and complete the install.
Customers using the New Units are vouching savings in the 13-15% range.  Results will vary depending on load and driver habits.  But this is nothing to sneeze at.
We did a survey to find out if VW was doing enough to resolve their Emission Scandal.  We received a resounding NO.  We have made a couple of stabs trying to put a foot in the door, but getting in front of the right people before their heads roll is another situation entirely.
So if anyone is interested we solved VW's problem for them.  That is up to them if they are willing to listen.
This how the story unfolds.  We took a 2006 VW Jetta TDI, 5 speed with about 90K miles on it.  We baselined the fuel mileage on the highway with several 200 mile trips.  We came up with an average of 43 mpg going around 70 mph.  All the tests were completed on the interstate running north and south.
After running the baseline we did some tweeking to the car to see what we do for the puppy.  We changed the oil with a synthetic grade, added a free flow air filter, made sure the tires were properly inflated and added a Vapster-Diesel RV-3300 Diesel Fuel Saver under the hood.
We drove the car around a bit to break in the oil and the air filter. Then I hit the road to complete a road trip to see what kind of improvement I could get with the fuel mileage.  After completing a 200 mile road trip as I always do I filled up the tank at the same pump as I started the trip.  The fuel mileage I got on this little Jetta was astonishing,  56.6 mpg.  Almost unbelievable, right? Wrong!  I was driving 70 mph the whole time.  If I drove 45 mph like the OEM's do when they test the new cars for mpg I would easily achieve into the mid 60's.
Would like to Note that Truck Driver's  with Freightliners should be delighted that we are introducing our New SDL-8800 Vapster-Diesel Fuel Saver "Dual Cats" to the market.  This will be our next featured article on OUR Fuel Saver Blog.