Series 60
Welcome everyone into the New Year!  We would like to thank all the folks that bought any of our products last year.  We can boast that our company provides products that are sustainable and green.  We are doing our part to leave behind a clean planet.  Our products lower emissions, reduce fuel consumption, and give more power to diesel engines.  What me could you ask for if you operate a diesel?
The best part is our Products are "Sustainable".  That's correct!  Once you add our product you get Free Fuel Treatment for the life of the engine.
Want to give you an update on last year's milestones.  1) Vapster-Diesel products came in First Place at the 2017 Toyota's Green Grand Prix in April at Watkins Glen International Raceway for "The Highest Fuel Mileage for a Modified Diesel 4 Cylinder engine".  The placement of a Vapster-Diesel RV-3300 on the engine of a 2006 VW Jetta TDI was the only change to the car.
2) Milestone number 2 was having dyno tests completed on a 2007 Chevy Duramax.  We tested at two different dyno facilities in South Florida.  We tested for horespower.  The stock issued 2007 Chevy Duramax 6.6 L is rated at 360 HP.  We tested the Baseline and sure enough the Dyno tested the engine stock at 360 HP.  After engaging the Sustainable Onboard Fuel Treatment System (The Vapster-Diesel RV-4400) to the Duramax the Dyno recorded 372 HP.  The Vapster-Diesel RV-4400 gave the "Duramax" a total of  12 More Horsepower.  Not Bad for a bolt-on Fuel Treatment System.
3) We will be completing EPA Standardize TESTS in February.  This includes the EPA FTP 75, the HWFET, and the US06.
4) I personally entered an entry into the Annual Spin Motor Build-Off.  It was a labor of love and I learned alot.  Next years entry will be a doosy.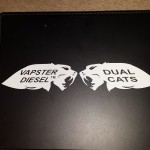 For all those Freightliner Fans out there your "Good Buddy" just came to town.  If you drive a Freightliner or your boss has you drive one with a Detroit Diesel Series 60 you are in luck.  Diesel Fuel Savers, LLC is adding a new product to the Vapster-Diesel Line of Diesel Fuel Savers.  It is the SDL-8800 "Dual Cats" fuel saver for the 14L Detroit Diesel Series 60.  You might not be aware but Vapster-Diesel product line is for all types of diesel engines.  Most people don't know that a diesel engine can be made more efficient by changing certain parameters in the combustion process.  These parameters include adding Oxygen (oxidizer), Hydrogen (Fuel), cracking (Breaking down large chain molecules to small change molecules.  This is what Vapster-Diesel products do, they increase the efficiency of the combustion process better than any Zero-Maintenance Product out on the market.  They use a Dual Cat P.C.E.R.T. technology developed at the combustion laboratory at Florida Atlantic University in Boca Raton, Florida.   P.C.E.R.T. Technology stands for Pre-Combustion Emission Reducing Technology.
But the heck with all that Scientific Crap right.  You just want to know if the products work?  With hundreds of units in the field with happy customers You can say something must be working.  In addition to that if you are not 100% completely satisfied with not enough results over your baseline you get a 100% refund of your money.  Heck, I don't have any competitors that will stand behind that promise.  That's our difference, Others Promise We Deliver!!
So you are the lucky ones.  We are offering the first 100 customers a Free Installation Package worth $200. Just call let us know your availability and we will be pleased to set an appointment for an installation.  The install takes just over an hour and you are on your way.  We have a mobile truck that will come to your truck yard and complete the install.
Customers using the New Units are vouching savings in the 13-15% range.  Results will vary depending on load and driver habits.  But this is nothing to sneeze at.