Freightliner Drivers
Yes, we just finished running a year long analysis with a Vapster-Diesel SDL-8800M on a Columbia Freightliner with a 14L Series 60 Detroit Diesel engine.  We don't want any owners embarrassed because they could have saved 15% on their fuel bill.  This is why if you own a 2001-2009 Detroit Diesel 14L in a Freightliner or other Cab we don't want to read to post.
This is the baseline on a 2007 Freightliner Columbia 14L Detroit Diesel from April 2016 before the Vapster-Diesel SDL8800M Fuel Conditioning System was added.  We are showing two pictures of the data collected so you can choose which is easier to read.
The average MPG"S for the baseline one year ago was 6.568 say 6.6 MPGs for this 2007 Freightliner Columbia.  Normal hauling weight 70-80K lbs.  The baseline for this truck was recalculated six months later and showed around 6.8 MPG's
The next pictures show the results of the MPG's at the end of the study with the Vapster-Diesel SDL8800M on the same vehicle.  The Vapster-Diesel is a patented onboard sustainable Fuel Conditioning System.
The Fuel Mileage Results for the Detroit Diesel
with the Vapster-Diesel Fuel conditioning system at the end of the testing cycle averaged 7.69 MPG.
The difference between the baseline and the new Fuel Mileage with the Vapster-Diesel SDL8800M is 17% improvement.  So if you spent say $45,000 on your fuel for the year you could have saved $7,650 with the Vapster-Diesel Fuel Conditioning System.   If you are interested in sticking some fuel money in your pocket contact us.   For trucks running in Florida make an appointment to have a unit installed!!!!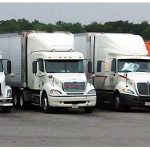 We are looking for owner/operators with Freightliners who would like to earn EXTRA money as they drive.  Correct we are looking for Drivers to make extra money in the S.E. Florida area.  If you can keep accurate fuel logs for 90 Days we will pay you $700.  That's correct drive and earn extra pay.  We are looking for a select few who can operate their truck and keep accurate fuel logs.  The applicant must meet the minimum requirements: have a well maintained Freightliner with a Detroit Diesel Series 60 Engine, live in the S.E. Florida area, and be able to collect and record accurate Fuel Mileage logs.  If you qualify you will be allowed to use our equipment for 90 days.  Most of our customers save and pocket around $700 in fuel savings.  If you would like to find out more details call 954-296-2559.