15% fuel savings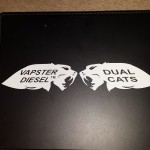 For all those Freightliner Fans out there your "Good Buddy" just came to town.  If you drive a Freightliner or your boss has you drive one with a Detroit Diesel Series 60 you are in luck.  Diesel Fuel Savers, LLC is adding a new product to the Vapster-Diesel Line of Diesel Fuel Savers.  It is the SDL-8800 "Dual Cats" fuel saver for the 14L Detroit Diesel Series 60.  You might not be aware but Vapster-Diesel product line is for all types of diesel engines.  Most people don't know that a diesel engine can be made more efficient by changing certain parameters in the combustion process.  These parameters include adding Oxygen (oxidizer), Hydrogen (Fuel), cracking (Breaking down large chain molecules to small change molecules.  This is what Vapster-Diesel products do, they increase the efficiency of the combustion process better than any Zero-Maintenance Product out on the market.  They use a Dual Cat P.C.E.R.T. technology developed at the combustion laboratory at Florida Atlantic University in Boca Raton, Florida.   P.C.E.R.T. Technology stands for Pre-Combustion Emission Reducing Technology.
But the heck with all that Scientific Crap right.  You just want to know if the products work?  With hundreds of units in the field with happy customers You can say something must be working.  In addition to that if you are not 100% completely satisfied with not enough results over your baseline you get a 100% refund of your money.  Heck, I don't have any competitors that will stand behind that promise.  That's our difference, Others Promise We Deliver!!
So you are the lucky ones.  We are offering the first 100 customers a Free Installation Package worth $200. Just call let us know your availability and we will be pleased to set an appointment for an installation.  The install takes just over an hour and you are on your way.  We have a mobile truck that will come to your truck yard and complete the install.
Customers using the New Units are vouching savings in the 13-15% range.  Results will vary depending on load and driver habits.  But this is nothing to sneeze at.